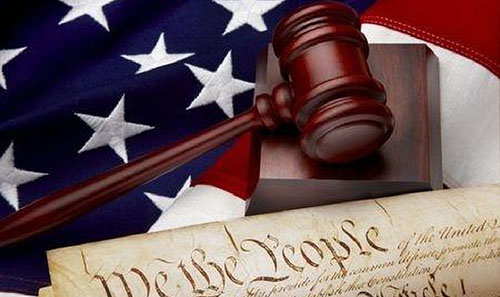 In accordance with section 170.013 RSMo, any student pursuing an associate's or bachelor's degree "shall successfully pass an examination on the provisions and principles of American civics with a score of seventy percent or greater as a condition of graduation from such institution. The examination shall be known as the "Missouri Higher Education Civics Achievement Examination".
How has Missouri Western included the civics requirement into the associate and baccalaureate degrees?
A degree requirement has been added to the list of general requirements for associate and baccalaureate degrees.
Who is required to take the Missouri Higher Education Civics Achievement Examination?
Beginning in Fall 2019, all students who officially declare a major must meet this degree requirement.
How can the civics degree requirement be met at Missouri Western?
Missouri Western will automatically enroll all degree-seeking students who need the exam in the Missouri Higher Education Civics Achievement Examination course in Canvas (free of charge) during their first semester. This course will remain in the student's Canvas course list until the end of the semester in which the student successfully completes the exam.
Do transfer students need to meet the civics requirement?
A student who transfers to Missouri Western and has taken and passed the Missouri Higher Education Civics Achievement Examination at another Missouri school will be considered to have met this requirement. A comment or note indicating such completion must be included on the transfer school's official transcript which is sent to Missouri Western. Otherwise, transfer students will need to pass the exam at Missouri Western to meet the degree requirement.
Is this the same as the Missouri Constitution degree requirement?
The Missouri Constitution degree requirement and the Missouri Higher Education Civics Achievement Examination requirement are two different degree requirements and are met in different ways. The Missouri Constitution information can be found at intranet.missouriwestern.edu/registrar/moconstitution.
Important civics exam information:
There are 50 multiple choice questions.
To pass the test you must correctly answer a minimum of 35 (70%).
The subject matter will include the United States Constitution, The United States Bill of Rights, governmental institutions, historical manifestations of federalism, and history of constitutional interpretation and amendments.
There is no time limit for the exam.
The test can be taken multiple times.
Test Preparation:
Review the study guide prepared for the United States Citizenship and Immigration Services study material for the civics questions and naturalization test, www.uscis.gov/citizenship/learners/study-test/study-materials-civics-test.
How will I know if I have successfully passed the exam?
Upon test completion an email with the test score will be sent to your Missouri Western State University email account.
The degree requirement will show complete in Griffon GPS.
A transcript notation will be placed on your transcript stating "Civics Achievement Exam Passed".